Tracker Garmin Garmin fenix5X Sapphire Gray Optic, Black
Sold out
We are sorry but that product is currently sold out. Take a look at more recent models currently available.
Product number
010-01733-01
Ask us whatever you want
We'll reply to your question the next working day at the latest.
Add question
---
We are happy that our products have good descriptions so nobody had to ask yet.
Added to cart:

Tracker Garmin Garmin fenix5X Sapphire Gray Optic, Black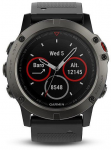 Buy products for additional 0 and get cheaper shipping. Buy products for another €150 and get free shipping
Buy for €200 and get a free gift.