A powerhouse for personal bests
Inspired by the Vaporfly, the Nike Zoom Fly 3 gives distance runners race-day comfort and durability. The propulsive power of a carbon-fibre plate keeps you in the running mile after mile.
The Look and Feel of Fast
A lightweight upper evokes the look of fast, while the inner sleeve and a low collar conform to your foot in a racing fit.
Complete Cushioning
A full-length Nike React midsole balances cushioning and responsiveness with lightweight, durable foam that delivers an extremely smooth ride.
Propulsive Feel
A carbon-fibre plate inside the midsole can shrink or expand the amount of fibre layers for maximal flexibility in your stride.
Nike ZoomFly Three
"Ideal for race-day speed, the Nike Zoom Fly starts with a carbon-fiber plate that provides a propulsive feel underfoot. It adds Nike React foam in the midsole, for a super-durable, springy ride. And it tops it off with a transparent, lightweight upper that helps you stay fast through the finish line. "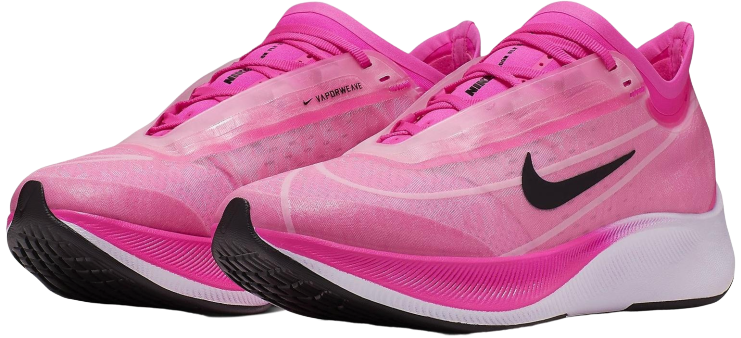 Product number
AT8241-600
React
It is a completely new foam, which is composed of a single piece of material. Thanks to the modern processing method, the design of the midsole is designed so that at specific places, which are most loaded during running, the shoe can be more attenuated. Conversely, in other places where much damping is not needed, the shoe is lightweight. You may notice the deeper parts that show more cushioned surfaces, even the shallower ones that create more strength.
Ask us whatever you want
We'll reply to your question the next working day at the latest.
Add question
---
No one has asked about this product yet.