A powerhouse for personal bests
Inspired by the Vaporfly, the Nike Zoom Fly 3 gives distance runners race-day comfort and durability. The propulsive power of a carbon-fibre plate keeps you in the running mile after mile.
The Look and Feel of Fast
A lightweight upper evokes the look of fast, while the inner sleeve and a low collar conform to your foot in a racing fit.
Complete Cushioning
A full-length Nike React midsole balances cushioning and responsiveness with lightweight, durable foam that delivers an extremely smooth ride.
Propulsive Feel
A carbon-fibre plate inside the midsole can shrink or expand the amount of fibre layers for maximal flexibility in your stride.
Nike ZoomFly Three
"Ideal for race-day speed, the Nike Zoom Fly starts with a carbon-fiber plate that provides a propulsive feel underfoot. It adds Nike React foam in the midsole, for a super-durable, springy ride. And it tops it off with a transparent, lightweight upper that helps you stay fast through the finish line. "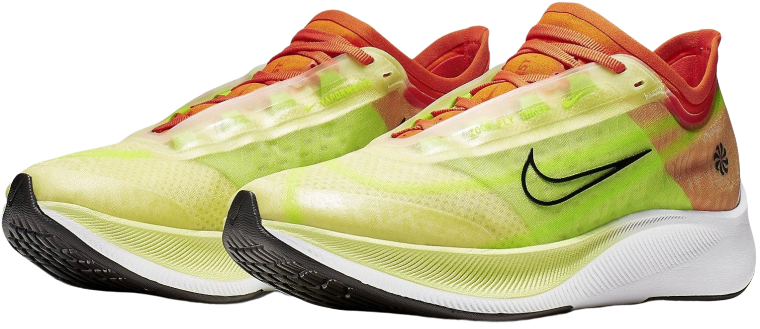 Product number
CQ4483-300
We'd love to read your opinion
Your review will help us and others to buy this product.
Add review
---
No reviews for this product yet
Ask us whatever you want
We'll reply to your question the next working day at the latest.
Add question
---
We are happy that our products have good descriptions so nobody had to ask yet.