Compression T-shirt Under Armour Under Armour Armour HG SS T
Qualities
HeatGear®
1
4-Way Stretch
1
Anti-Odor
1
UPF Protection
1
Need advice?
Mo–Fr: 09:00 – 17:00

+420 222 74 64 24
info@top4running.com
Added to cart:

Compression T-shirt Under Armour Under Armour Armour HG SS T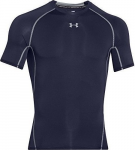 To get free shipping order only for another €150
Reservation
We will inform you once the products arrive at the shop.
Reservation is free and valid for 24 hours after we confirm via e-mail or phone.