Meeting Eliud Kipchoge and testing the new Nike ZoomX Vaporfly NEXT%
On Thursday, May 2, at Top4Running we had a unique opportunity to meet the current fastest marathon runner in the world – Eliud Kipchoge – and try out the new, even faster Nike ZoomX Vaporfly NEXT% running shoes.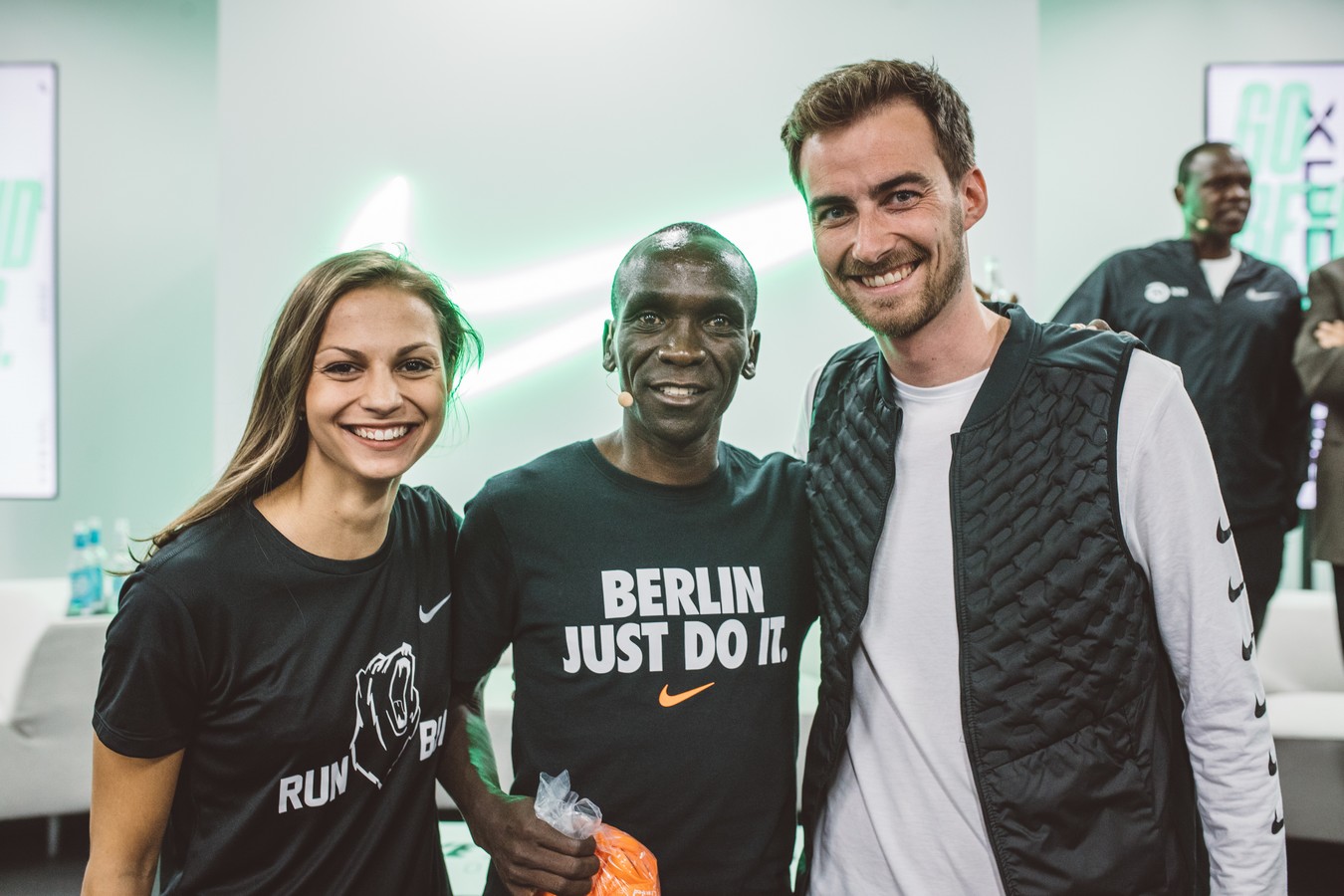 These shoes were introduced a week before at London's marathon, where Eliud Kipchoge achieved his second fastest marathon time (the fastest time comes from last year's Berlin marathon which we went to see). He showed the whole world who the master of the marathon is and that Nike has been continuously designing faster and faster running shoes.
Compared to Nike Vaporfly 4% Flyknit, the Nike ZoomX Vaporfly NEXT% took another step into the future. Its outsole contains 15% more ZoomX foam for even better energy return and foot protection upon landing. The outsole features carbon fibre along its entire length which pushes you forward and helps you intensify your pace.
Its upper is made of the brand-new Nike Vaporwave material making the shoe firmer while reducing its weight. It is also breathable and absorbs minimal water, so you really don't feel you're wearing the shoe when running.
The designers transformed the front part of the outsole to provide better traction in any conditions. They also deepened the tread to provide better stability.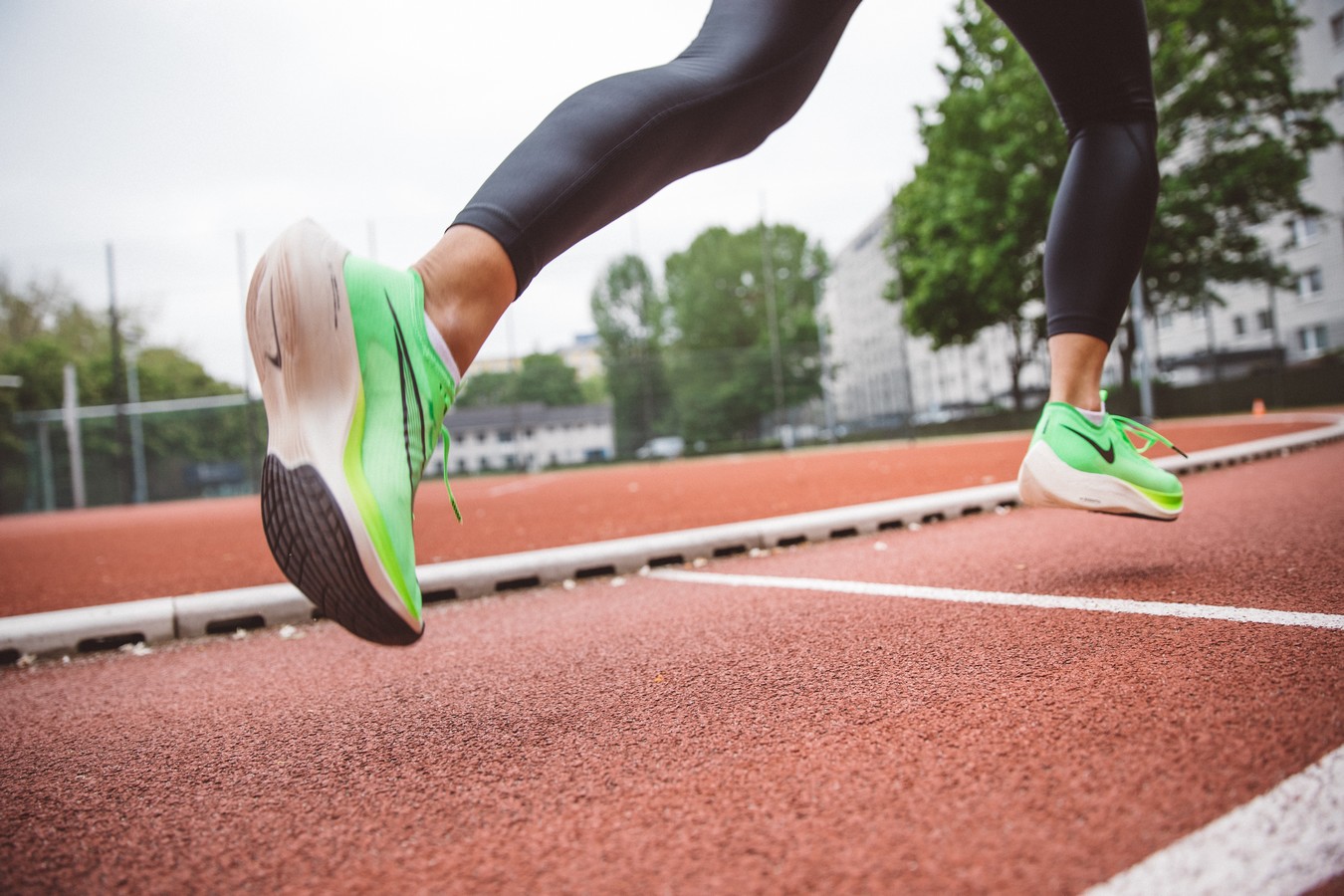 The New Nike ZoomX Vaporfly NEXT% was created in cooperation with major global athletes, such as Eliud Kipchoge, Mo Farah and Shalane Flanagan. These runners shared their experience and knowledge with Nike and together created the fastest shoe in the world so far.
First, I tried out the new Nike ZoomX Vaporfly NEXT% on a treadmill for an exercise stress test before switching to tartan with the assistance of running coaches. The perfectly-shaped outsole forces you to push forward and land on the forefoot. In comparison with Nike VaporFly 4% Flyknit, the material of its outsole is apparently firmer. The new Nike Vaporwave upper takes some getting used to, as at first you'll feel almost naked before noticing that you don't really feel it at all when running, which is incredibly liberating. All in all, the Nike ZoomX Vaporfly NEXT% is not a shoe for just elite runners; this shoe is suitable for any of us who enjoy running, want to save some energy and wear only the best they can absolutely rely on during a race.
During the presentation, we had the opportunity and honour to meet Eliud Kipchoge, the running legend himself. A very kind, quiet and humble man who said several things I've adopted in my life as a runner, and that I believe could motivate everybody:
"I do not compete with people, I compete with time and distance" – he doesn't focus on other runners and instead devotes his concentration to himself and his performance. It was easy to see this during the London Marathon when he kept his cool despite having the great Mo Farah on his heels.
"If you sacrifice a lot, you win a lot" – a lot needs to be sacrificed (not only to running) in order to get it back one day.
"You cannot shave your head alone" – here, he highlighted the importance of the entire team around him. The people who help him keep improving and stay fit. He mentioned the importance of the team several times during the day as well.
The day before the meeting, I reached out on Instagram to see what you'd like ask Eliud. From among the most interesting answers I can say that he sleeps eight hours a day and adds another hour in the afternoon, his coach Patrick Sang is his neighbour, and that he doesn't like ice cream because it's too cold for him J For more of his answers, stay tuned for the video of our interview with him, coming soon.
For us – runners – meeting Eliud Kipchoge was something like meeting Lionel Messi for football fans or Michael Jordan for basketball enthusiasts. Totally unique, breath-taking, and inspiring. Thanks a lot for this opportunity!