To start the new year on the right foot, TOP4RUNNING has decided to join forces with RunMotion Coach and offer you personalised coaching to help you achieve your sporting goals. For the occasion, start the year with us.
With TOP4RUNNING, get 1 month of free Premium subscription with the code TOP4RUNNING and join a community of more than 200,000 athletes.
What is RunMotion Coach?
RunMotion Coach is the leading free coaching application in France, created by top coaches and runners and available 24/7, providing a training plan and relevant advice.
Tailor-made and evolving training programme
Each runner has a personalized training plan, according to his experience, his dispositions and his desires, thanks to our artificial intelligence. In other words: any level, any goal.
Where does it come from ?
RunMotion Coach was born during a run between Guillaume & Romain ADAM. They had more and more friends who wanted to benefit from training plans to prepare for their first trail, to go under 3 hours in a marathon or to improve their speed... They wanted to create a service accessible to as many people as possible. RunMotion Coach is now a major player in digital coaching in France and is expanding internationally.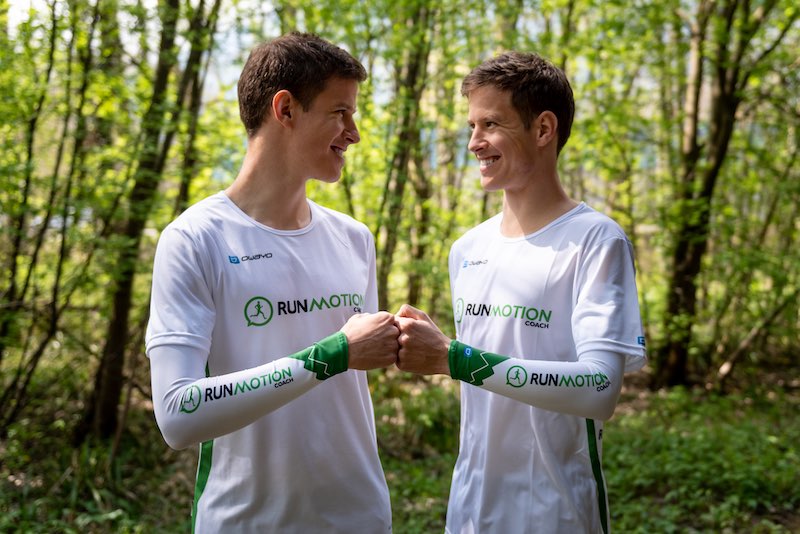 Caption: Guillaume (left) and Romain (right) ADAM, co-founders of RunMotion Coach and respectively 2h28 and 2h38 in the marathon.
For whom?
RunMotion Coach is now developed for all types of runners. Because of the versatility of the coaches, you will find plans for both road races and trails.

Race objective: finisher or time trial
- 5km
- 10km
- Half Marathon
- Marathon
- Trails
- Ultra-trails (from 80km to 160km)

Wellness goal
- Start running
- Run regularly
- Lose weight
- Stop smoking with running

What are the benefits?
User experience: Relationship with a digital coach via automated instant messaging (chatbot). It is the only application in sport to offer this.
RunMotion Coach has integrated sports psychology with the possibility of choosing the personality of the coach: positive, authoritarian or philosophical.
Calculation of training paces based on the performance prediction model developed by a team from MIT and CNRS to which Guillaume ADAM belonged. This model is the most accurate to date and allows the calculation of the runner's VMA and endurance based on his or her race results.
Languages: the application is developing internationally and is now available in French / English / Spanish.
GET YOUR FIRST PREMIUM MONTH FREE WITH THE CODE TOP4RUNNING
LET'S TRY