What does ultra actually mean? These are runs longer than a marathon, i.e. over 42.195 km. Ultra running can be 50 km, 100 km, or even more, there are countless different races and distances nowadays. We can divide these races into two categories:
Road ultramarathon - You run on the road, especially on hard and paved surfaces, for example in towns or villages.
Ultra trail - You run in the terrain, on soft and unpredictable surfaces, especially in forests, meadows, or mountains. You will usually climb several hundred or thousands of vertical meters.
As you can see, these two types are very different from each other and the choice of shoes will also depend on this. We will give you advice on which running shoes to wear. We will start with the road and then move on to the trail!
How to choose shoes for a road ultramarathon?
Your ultramarathon road shoe should have a few basic features:
Cushioning - You will have more than enough hard impacts during an ultramarathon, so wear road shoes with plenty of cushioning. The road is a flat and predictable surface, so the cushioning won't affect stability as much. But remember, the higher the cushioning, the heavier the shoe.
Durability and comfort - The uppers of road shoes are made of high-quality, durable, and breathable materials and the soft fabric interiors will give you the comfort you seem to find on long runs!
Width and size - The foot swells, expands, and needs plenty of space on long runs. There i's nothing worse than when your toes start bumping into the upper at kilometer 30. So buy shoes at least 1-2 sizes larger and choose models with a wide construction if necessary.
Our tips for road ultramarathon running shoes:
1) Nike Invincible
One of the most popular road shoes for long distances is the Nike Invincible 3. The combination of tuned support and purposefully placed Nike ZoomX cradle-shaped cushioning will make you feel safe and save your joints during long runs. The Nike ZoomX foam in the midsole is lightweight and extremely responsive. The improved and even more durable Flyknit upper has increased breathability in the areas where the foot heats up the most. The shoe also protects the foot from the effects of pronation.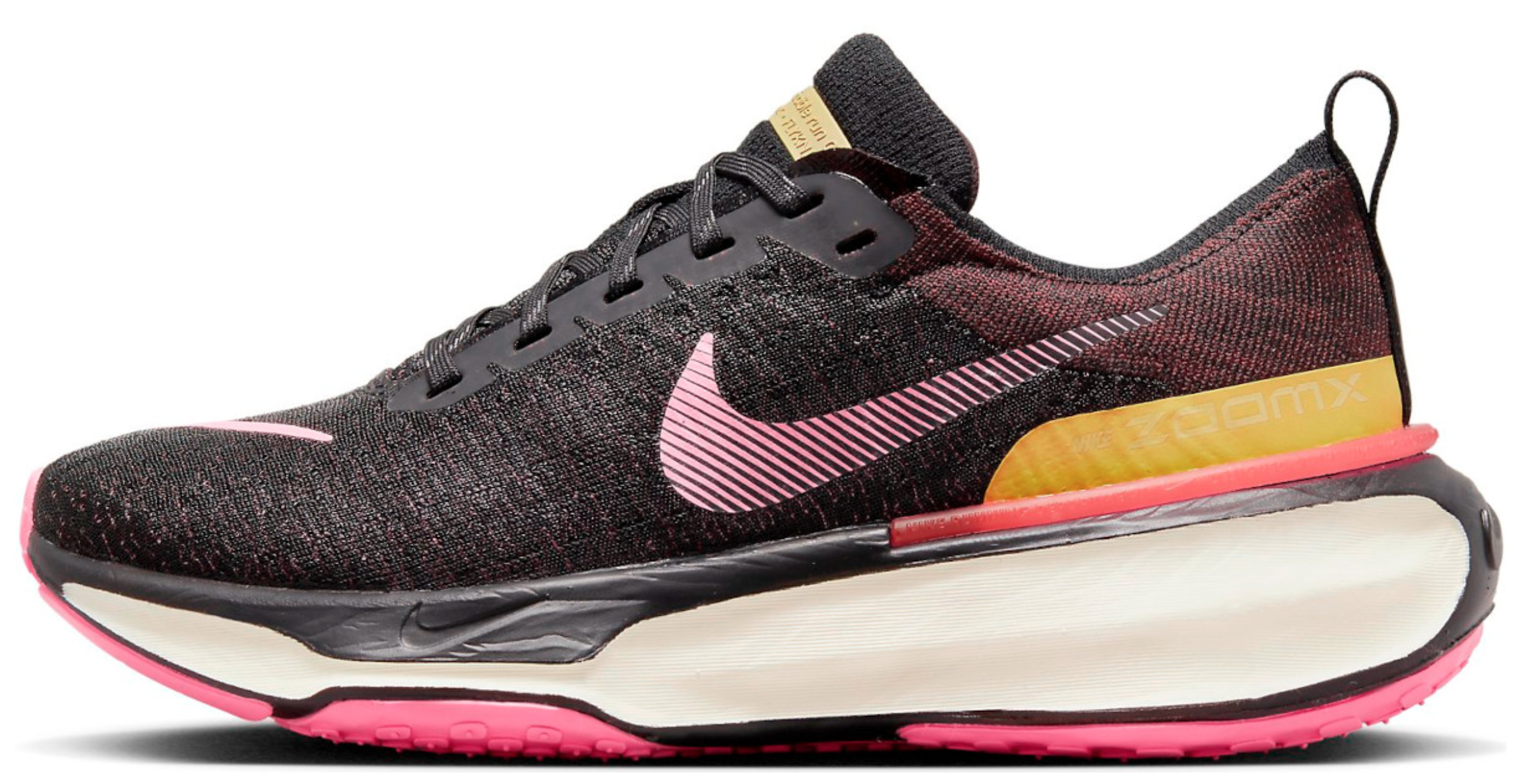 2) adidas Adizero Adios Pro
The Adizero Adios Pro 3 is the ultimate racing shoe for long road runs. The midsole is cushioned with two layers of durable Lightstrike Pro foam to effectively soften any hard impact. Optimized ENERGYRODS 2.0. carbon parts in the midsole deliver great energy return. The new lightweight textile upper is reinforced where you need it most. Plus, it contains a minimum of 50 % recycled yarn. Thanks to the premium grippy Continental rubber outsole, you can run at a high pace, even in the rain. The 6.5 drop still gives you a very natural stride.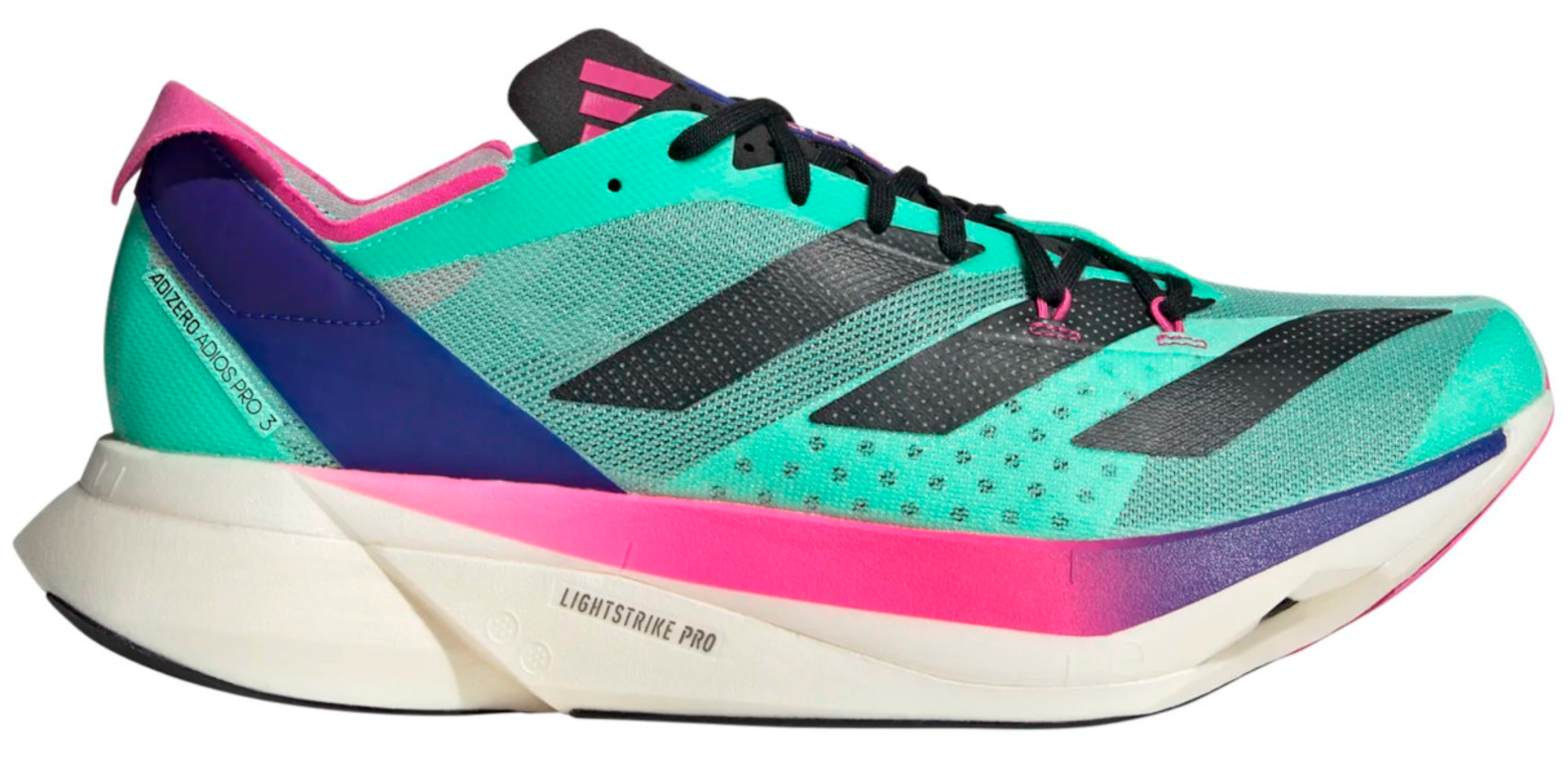 3) Nike ZoomX Vaporfly Next%
The second model from Nike, the Nike ZoomX Vaporfly Next% 2. This is a racing shoe that will take you up to 50 km at a good speed! The Nike ZoomX foam gives you a huge energy return and the responsive carbon fiber layer throughout the shoe propels you forward with every pedal. Optimal levels of cushioning soften the impact on hard surfaces.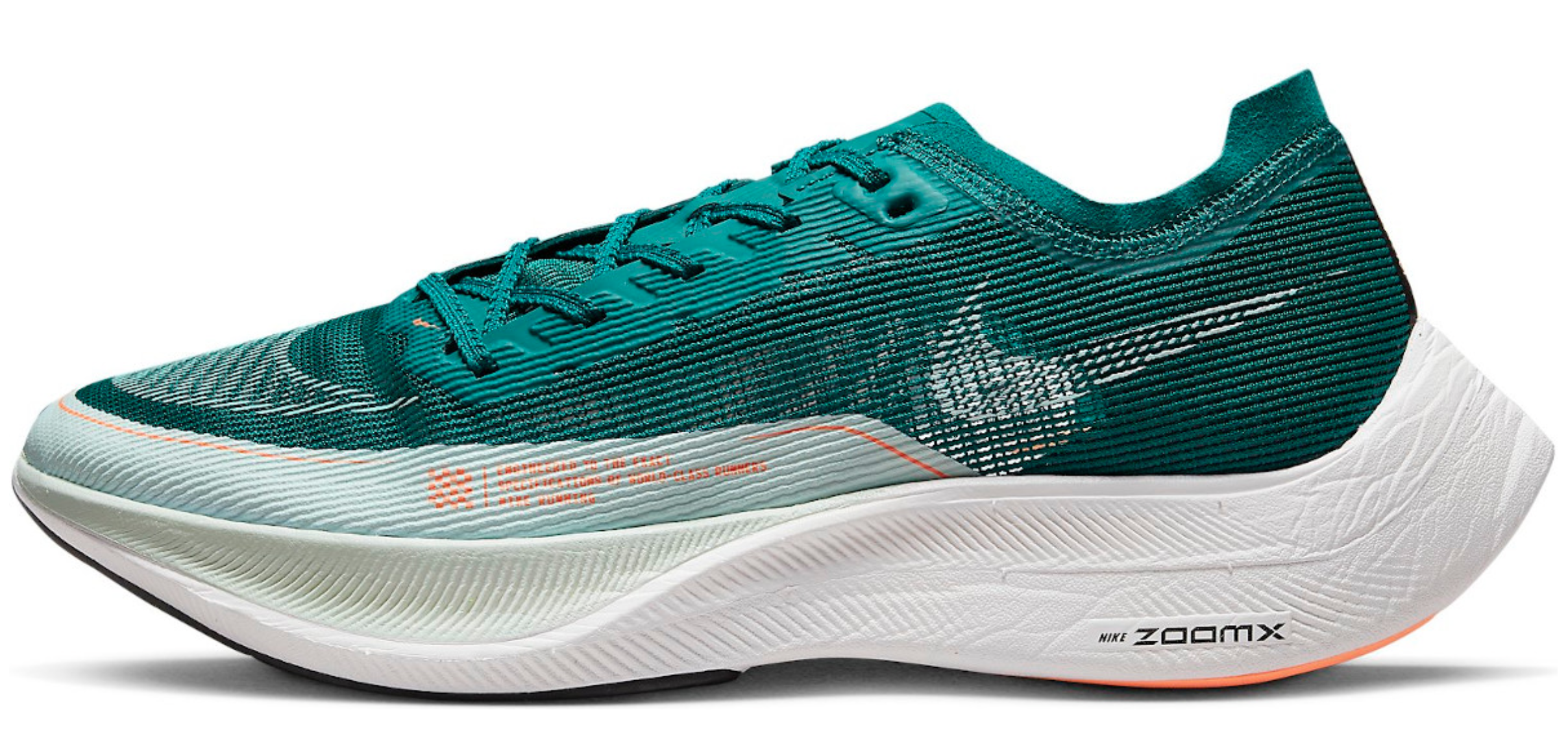 How to choose running shoes for ultra trail?
As with road shoes, there are a few things that your trail shoe should have:
A pattern on the sole - We dare to say this is an essential aspect of a trail shoe. A durable and aggressive grip will hold you up in unpredictable terrain, providing traction and grip as well as stability.
Cushioning - Although ultra trails are mostly run on soft surfaces, shock absorption, and comfort are key on these long distances. You are going to run for a long time and that means tens of thousands of impacts. Choose the level of cushioning according to your preference and also the length of the course. A lower rate means less comfort but better contact with the surface. Higher levels promise extra comfort, but ground contact is reduced and you won't be able to react as quickly to the changes in terrain.
Stability - This is closely related to cushioning because, in addition to cushioning, you need maximum stability and the ability to read the terrain to avoid sprains or falls. You need to choose the right balance between cushioning and stability. It's also important in terms of stability to choose a shoe that is solid but doesn't push you anywhere.
Width and size - The foot swells, expands, and needs plenty of space on long runs. There i's nothing worse than when your toes start bumping into the upper at kilometer 30. So buy shoes at least 1-2 sizes larger and choose models with a wide construction if necessary.
Durability - Durable outsole along with a durable and breathable upper that can handle the pitfalls of rocks or roots.
Our tips for ultra trail running shoes:
1) Salomon S/LAB Ultra 3
This popular ultra-long distance shoe has a lighter construction than its predecessors, as well as a redesigned and more durable mesh upper. The EnergyCell+ midsole delivers high energy return, reliably cushions your every step, and is highly dynamic, so it uses a minimum of your energy on the rebound. The Contagrip® MA outsole has high durability and grip on varied terrain. Overall, the shoe is very stable and allows sufficient contact with the surface. If you're going for an ultra trail up to 50 km and want to wear Salomon, the Salomon Pulsar Trail will also be a great choice.
Top4Running TIP: Equip yourself for an ultra trail with Salomon gear! You'll find hydration packs, running vests, headbands, and much more.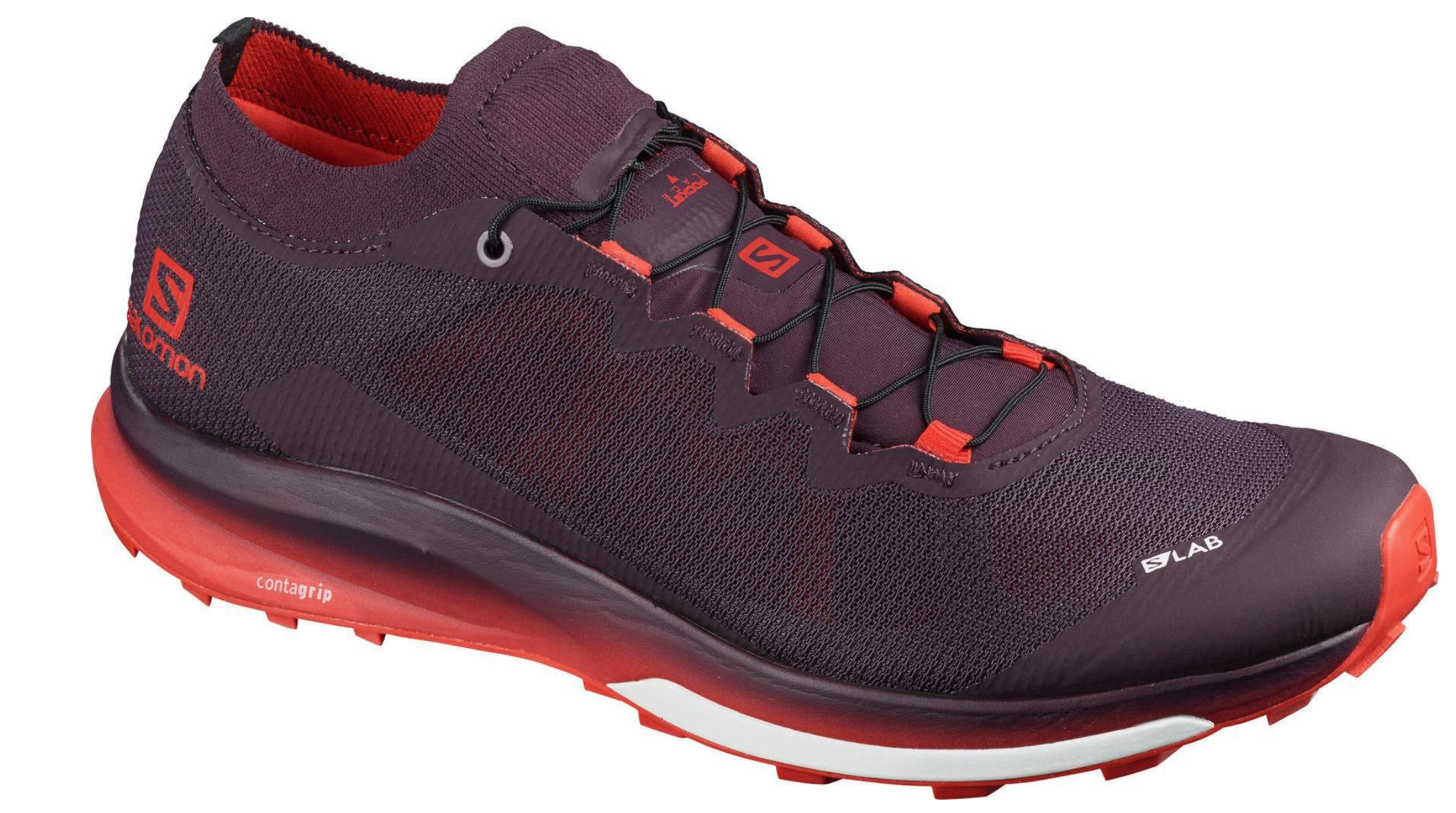 2) Nike Zegama
You can overcome long climbs and steep descents in uncompromising terrain with the Nike ZoomX Zegama trail shoes. A deeper and more varied sole pattern with larger gaps will improve grip and stability, especially in more technical passages. This will allow you to read the terrain even after a few dozen kilometers when your feet are already tired. The lightweight Nike ZoomX midsole, combined with the elevated outsole, will provide cushioning to soften impact and relieve your joints. The drop in the shoe is just 4 mm, allowing your foot to feel truly natural.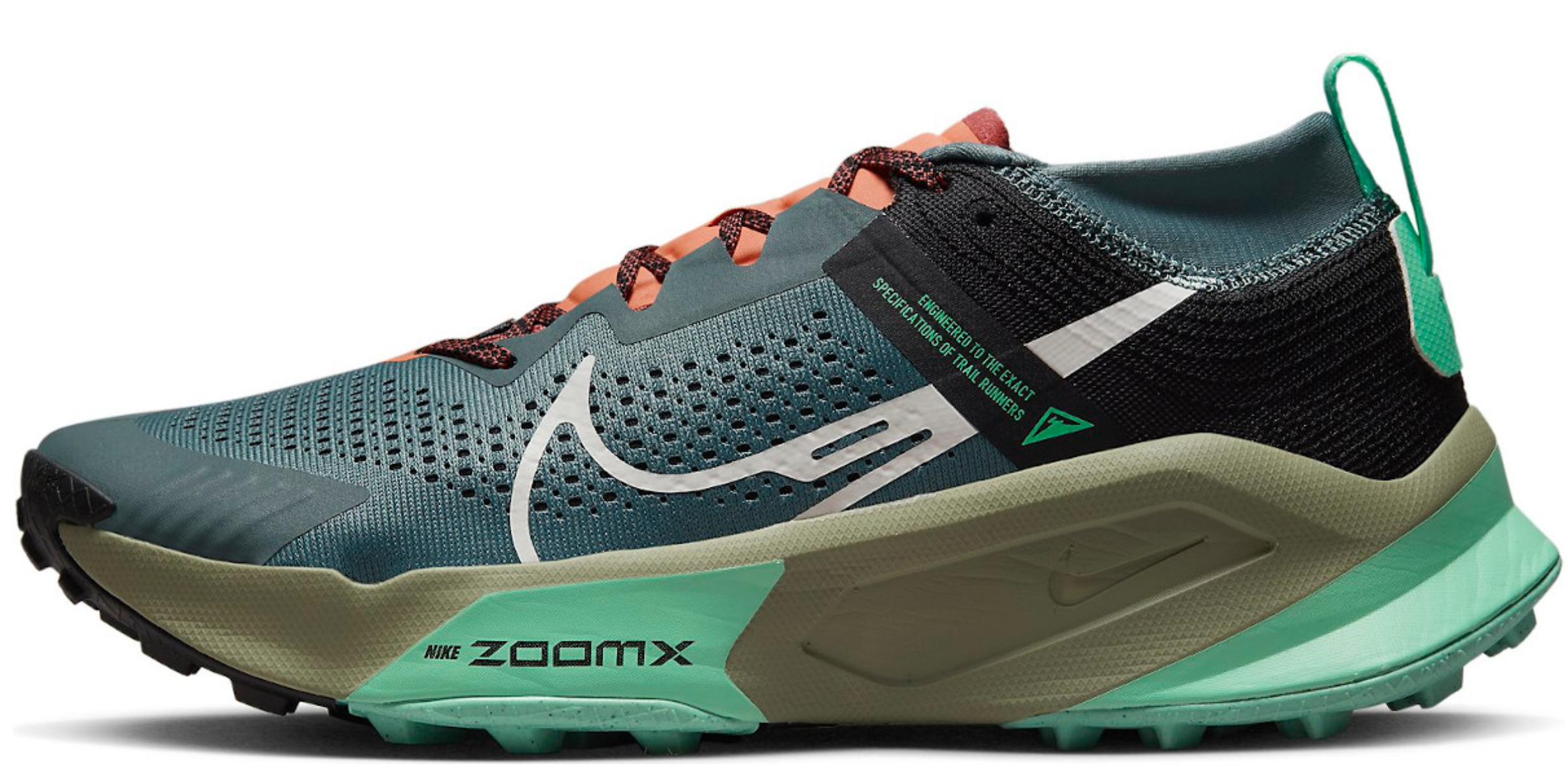 3) Inov-8 Trailfly
Inov-8 Trailfly Ultra G 300 Max. A shoe born for the needs of the ultra trail. The TRAILFLY sole is based on the proven TERRA ULTRA concept. It's not afraid of running over asphalt and reliably holds you up on rocky rubble or technical forest terrain. The TRAILFLY model uses patented ADAPTER FLEX technology - a 10mm deep notch in the middle part of the cushioning, which radically increases the flexibility of the entire shoe and thus its ability to sense the terrain. The low 6mm drop promotes natural footwork.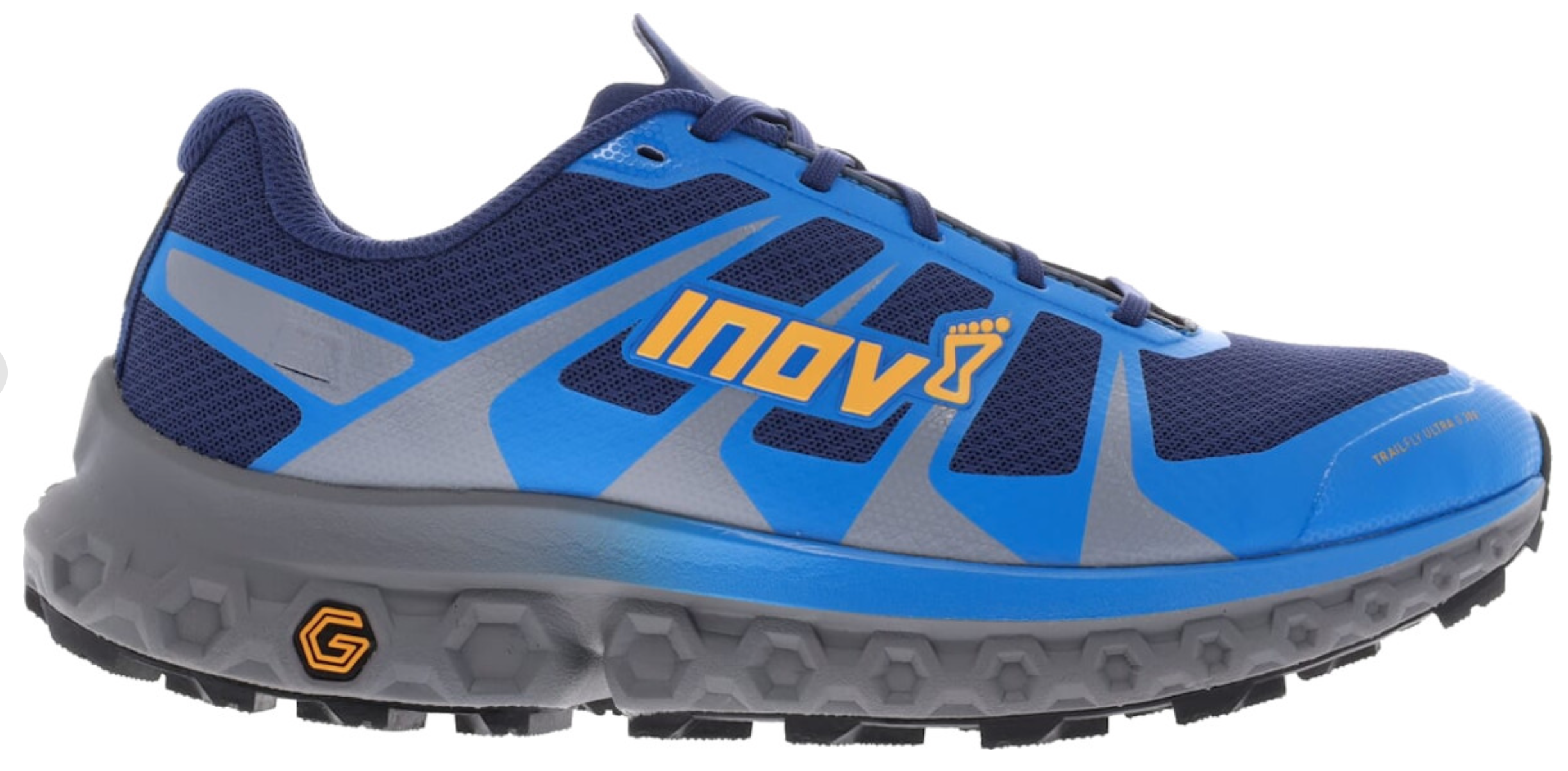 Practical tips at the end
Ultra is one of the long races where you spend several (tens of) hours. If you are going to an ultra race, we count on you having mastered physical and mental preparation. However, here are a few more tips in terms of footwear:
Test the shoe properly - Going to an ultra in brand-new shoes is tempting, but very irresponsible. Test them first and see if they fit after x miles and don't pinch you anywhere. Again, you'll spend hours on the track, so running shoes should be your best partner!
Socks are the alpha omega - You can have the best shoes, but without the right socks they will be useless and in the worst case it can lead to not finishing the race. Leave the cotton socks at home, and choose those made of functional materials that stay on your feet, wick away moisture, and prevent blisters or uncomfortable friction. If you prefer longer socks and want an extra boost in recovery, wear compression socks.
Bring an extra pair of running shoes - At some ultra races, you can store your things and equipment in the racing depot. Prepare an extra pair of running shoes there, for example, more cushioned shoes for the second half of the race, or waterproof shoes that you can replace if needed.