Mountain terrain means a lot of things - unpaved trails, forest paths, rocks, or roots. The weather is also a huge factor because it is very unpredictable in the mountains and changes every moment. However, the shoes well prepared for these pitfalls are
TRAIL SHOES
How to choose a trail shoe for the mountains?
Each person has different goals and preferences that influence the choice of running shoes. In short, there is no best-of-all trail shoe. But we've got 7 things to think about when choosing YOUR best running shoe:
The pattern on the sole - Durable and aggressive grip to hold you up in mountain conditions, provide grip, and also stability in the terrain. The number one trail shoe feature. What does it mean? If you're going to the mountains, leave the smooth-soled road shoes at home.
Stability - In unpredictable mountain terrain, you need to keep your foot anchored in the shoe, especially the heel. Therefore, choose a shoe that feels firm and settled, but at the same time doesn't push you anywhere.
Cushioning - Although the mountain surface is softer and the shocks do not put as much pressure on the joints as when running on the road, it is good to have a cushioning layer in the midsole. You'll especially appreciate this on longer runs and when you're going through rocky parts of the trail. The level of cushioning is up to you, you need to find out what suits you and your running type. Lower cushioning means less comfort but better contact with the surface. Higher cushioning promises extra comfort, but ground contact will be lower and you won't be able to react to changes that quickly.
Durability - Durable but still breathable upper and a tough outsole that can withstand anything the trail has in store for you. Another advantage of trail shoes over road shoes.
Shoe width - If you have a wider foot or just require more space, choose shoes with a wider construction.
Gore-Tex membrane - For rain or snow, wear a shoe with a Gore-Tex membrane that repels water but at the same time keeps the foot breathable.
Drop - A number that indicates the difference in height between the heel and toe. The lower it is, the more natural step your shoe will allow you. It has many positives, but it also requires an adaptive period, a gradual transition, and proper running technique to avoid overloading your calfs and Achilles.
Finding the right running shoes sometimes takes time, but it is definitely worth it. Try, try and try, that's what it's all about. But don't worry, we've got the tip to speed up the process! We have 5 popular and tested trail shoes for you. Try one of them!
1) INOV-8 Roclite
The INOV-8 Roclite Ultra G 320 is known as the Roclite on steroids. Why? Because it can handle any terrain and any distance! The core of the shoe is the revolutionary G-FLY graphene cushioning compound. It effectively absorbs vibrations and shock, but it's not as soft as is common with cushioned running shoes. This means that it has an extremely long life and, above all, superior stability when moving in technical trail conditions, which is just right for mountain running. But that's not all. The brand-new upper and stabilizing reinforcements ensure you can safely go through technical terrain, so the shoe retains great handling whether you're running on a mountain trail or in rock rubble. The shoe's construction is medium width to achieve a compromise between stability and maneuverability, but the upper is wide enough in the front of the shoe to give your toes and transverse arches the space they need.
2) la Sportiva Jackal
The La Sportiva Jackal can withstand any terrain and is designed for medium and long-distance running. Thanks to the FriXion Red dual stiffness outsole, this model has a great grip-to-durability ratio. A few hundred kilometers in this shoe means there will be a lot of mountain adventures! Combined with the unique Infinitoo™ midsole construction, it can relieve your feet and joints. The icing on the cake in terms of overall comfort is the wider fit that provides plenty of toe space. The model is also available in a Gore-Tex version - la Sportiva Jackal GTX.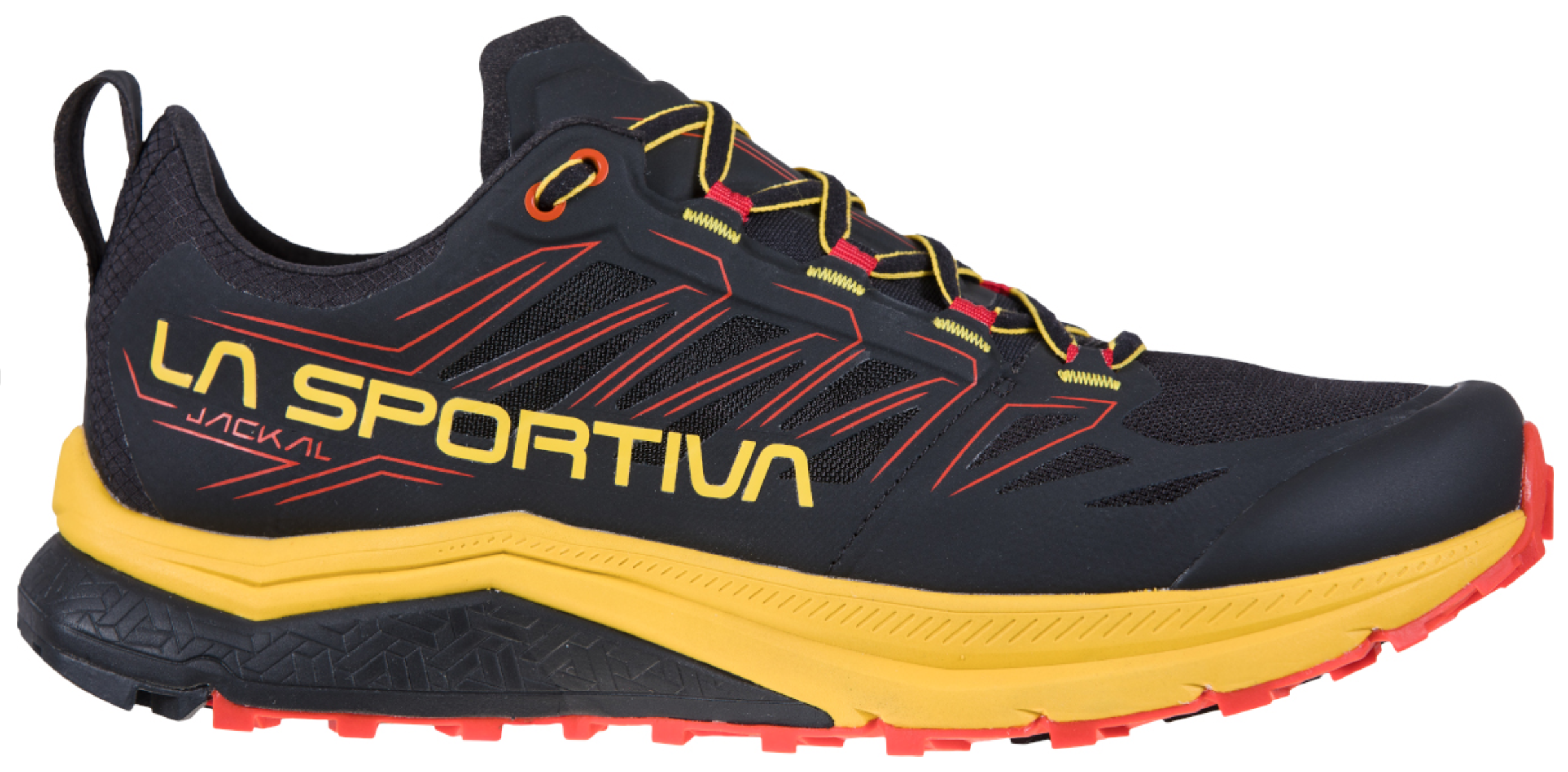 3) Salomon Ultra Glide
The Salomon Ultra Glide 2 offers high comfort and is ideal for long distances. The Contagrip® MA outsole provides reliable grip on a variety of surfaces and the Profeel Film ensures great grip on wet surfaces and on rocks. The high-quality upper with SensiFit technology gives you a comfortable, but also firm fit around the foot. Quicklace lacing is also an advantage. The Energy Surge foam midsole in a curved Reverse Camber shape cushions your impact, which is a must on longer trails in the mountains.
Top4Running TIP: Equip yourself with Salomon gear for mountain running. You can find running backpacks, vests, hydration packs, and more here!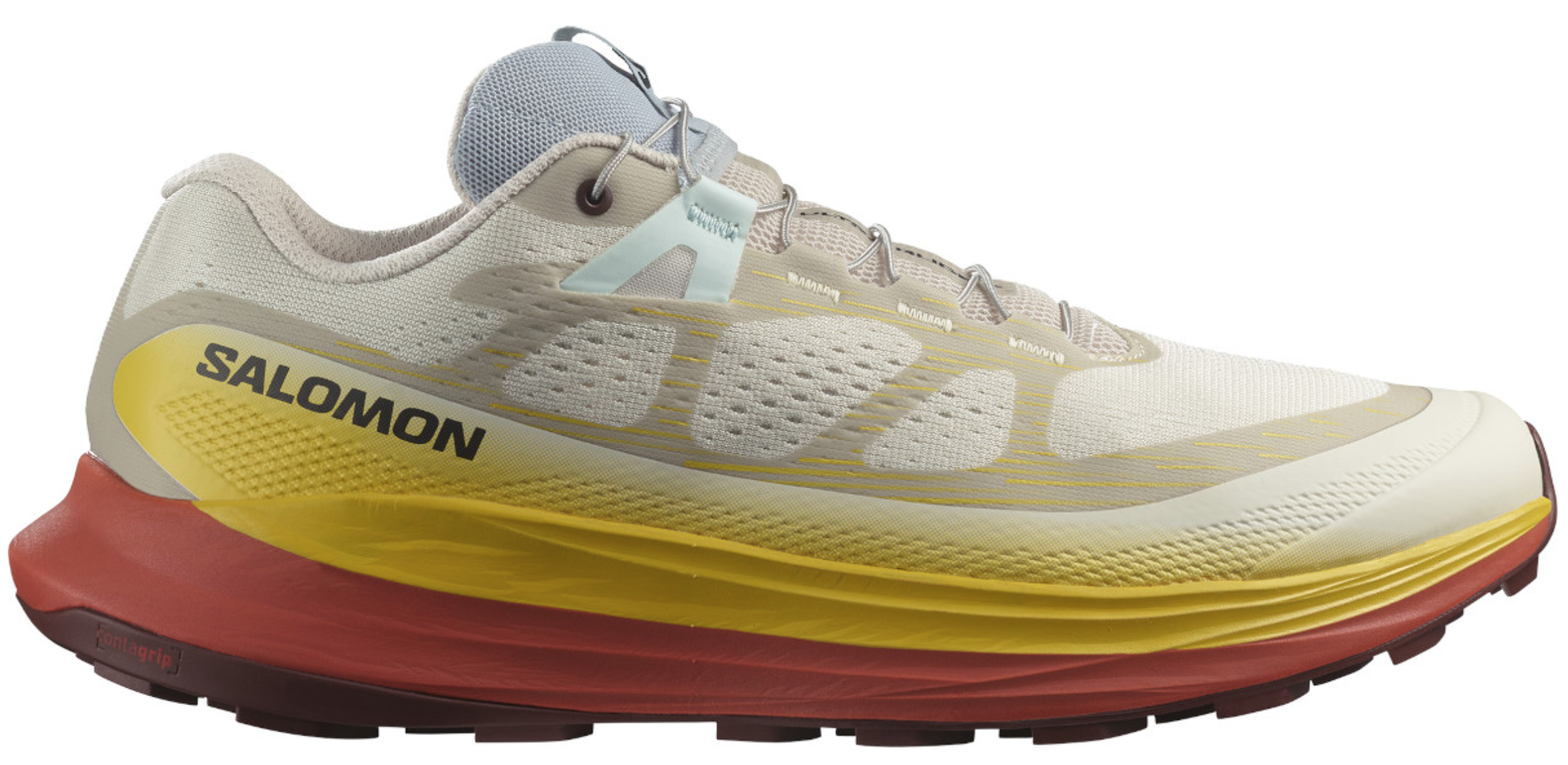 4) Saucony Endorphin
Do you want to experience the wind in your hair and true mountain speed? Then put on the Saucony Endorphin Edge trail shoe. The combination of PWRRUN PB cushioning foam and Carbitex™ carbon plate will be your driving force! It can handle all the rigors of challenging terrain and is suitable for short and long trails. The flexible Carbitex™ MonoFlex carbon plate gives you speed without losing contact with the surface. The lightweight, breathable mesh upper actively wicks away moisture and keeps your feet dry with higher absorption and faster evaporation. The PWRTRAC outsole literally blends into the trail, and provides grip so you can focus solely on performance and beautiful mountain views!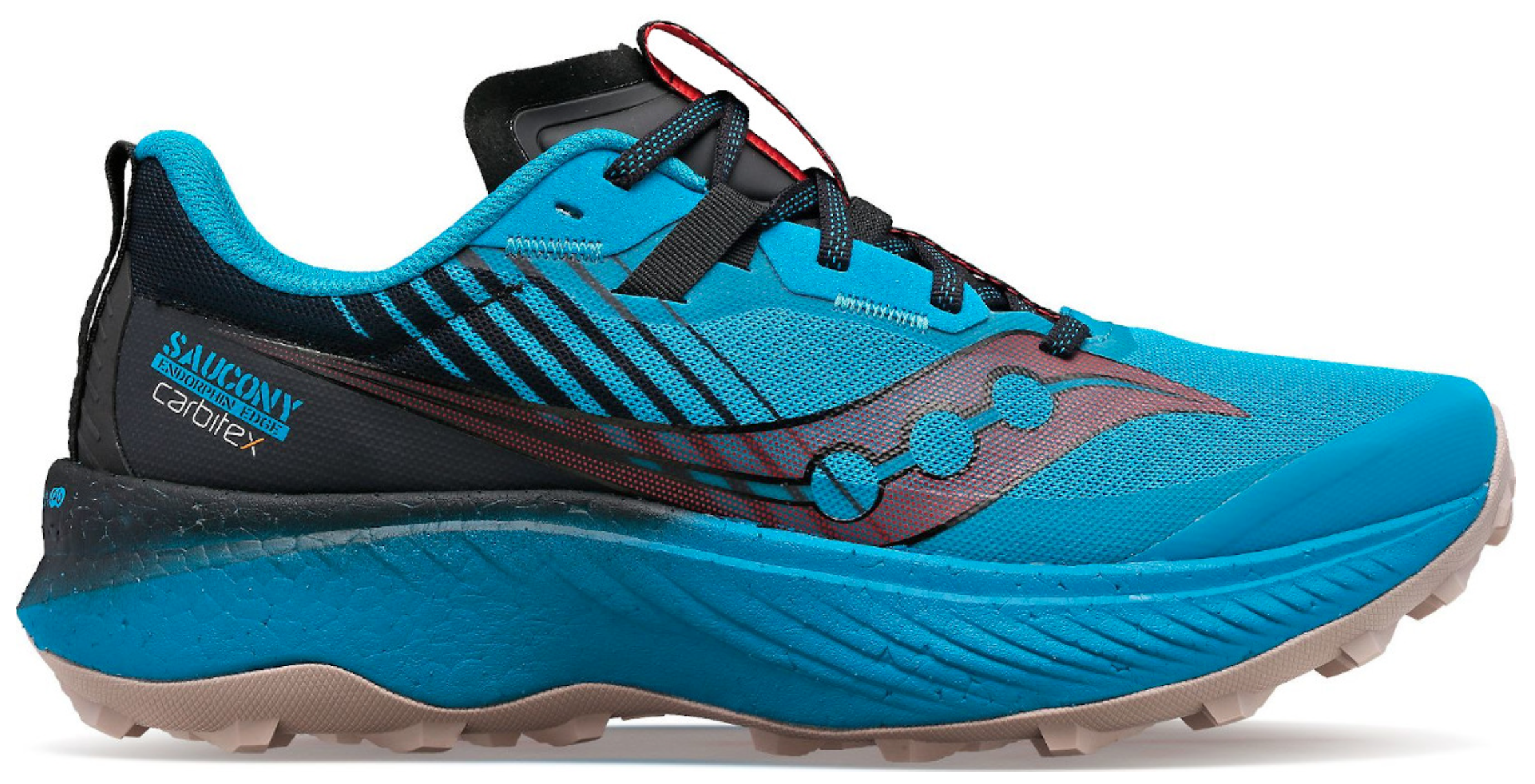 5) Altra Lone Peak
The latest generation of the Lone Peak collection, the Altra Lone Peak 7, retains all the strengths of its predecessors, plus a few new features. The shoe's Quick-Dry Air Mesh upper, along with a tight-fitting tongue, hugs the foot with even more comfort and overall stability. Mesh is used in the heel and toe with highly effective moisture wicking. The Altra EGO™ midsole absorbs shock without losing stability. The aggressive MaxTrac™ outsole with angled TrailClaw™ lugs improves grip, so the shoe bites into the mountain surface with even more vigor. As with other Altra models, you can count on zero drop (Altra ZeroDrop™ outsole platform + Altra FootShape™) for a natural stride. Again, while zero-drop shoes have many advantages, it takes some time to get used to them.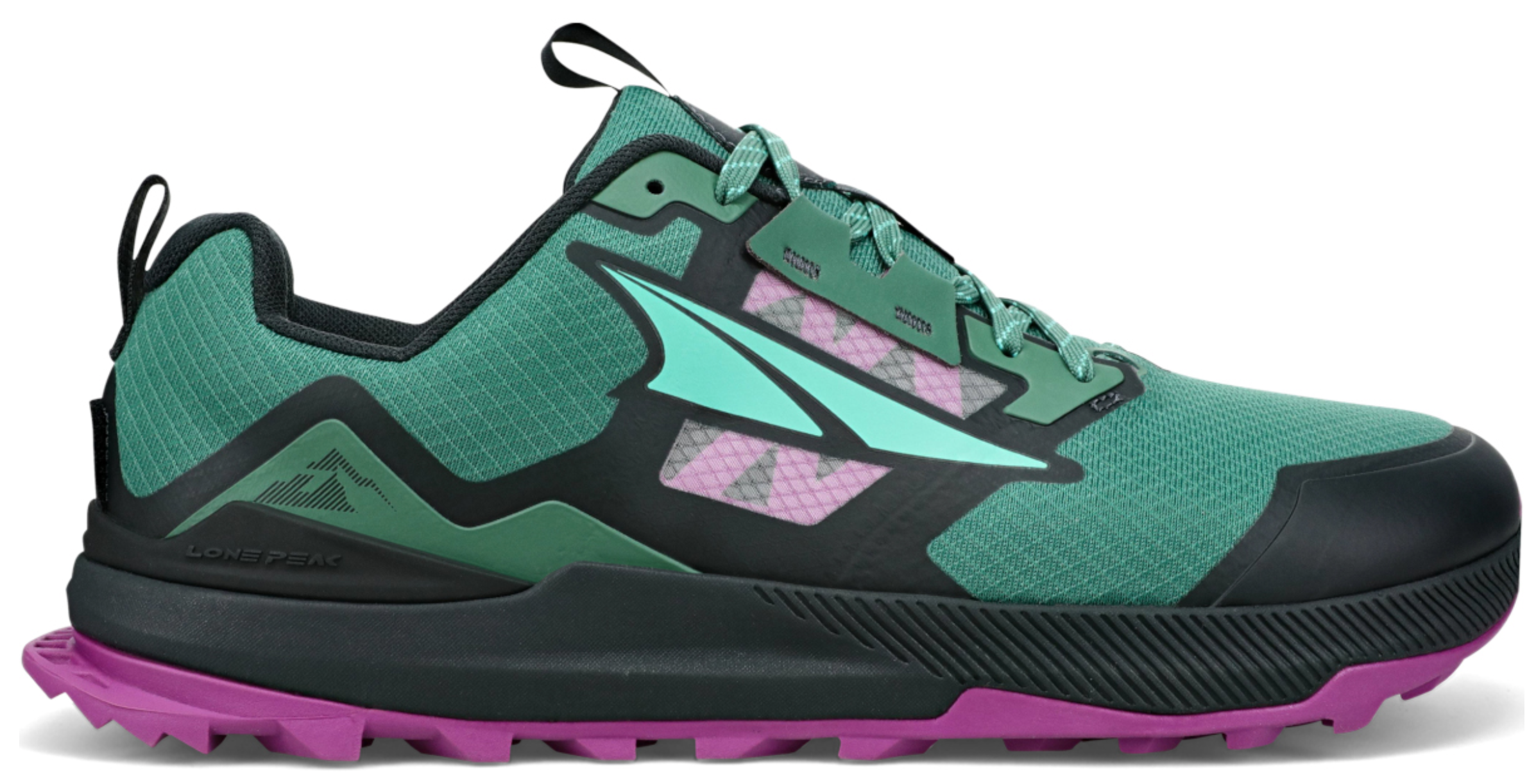 Enjoy the mountain adventure with Top4Running!