Under Armour HOVR Infinite
Under Armour introduces the next line of its HOVR Infinite running shoes, featuring a special technology inspired by gravity and with a smart sensor to analyse a running pace.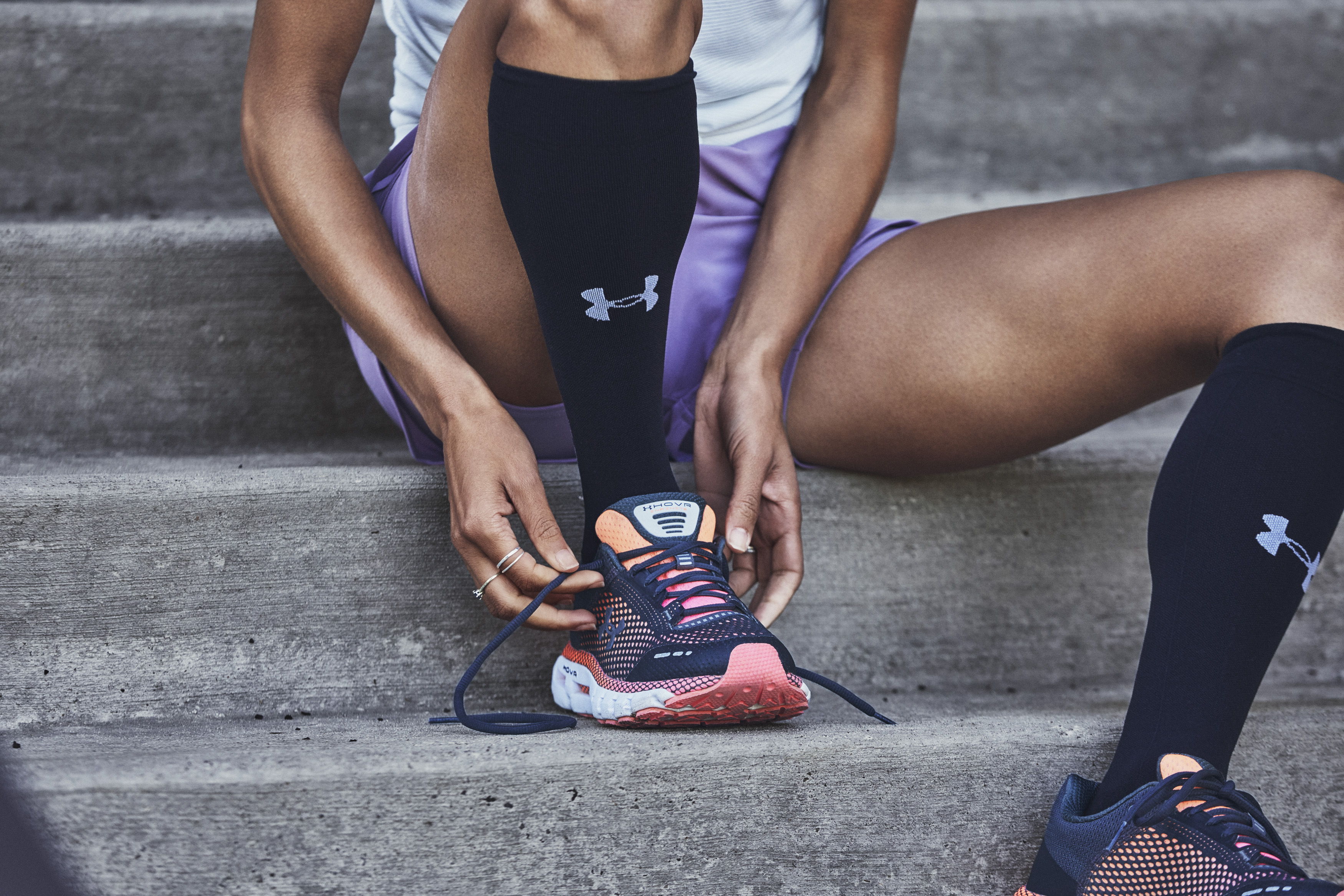 UA HOVR – perfect energy return
The UA HOVR technology was inspired by gravity. Under Armour decided to develop a solution to absorb and soften the landing of your feet when you run and put that energy back into the next take-off. Its soft UA HOVR™ foam, combined with dynamic Energy Web, cushions these impacts and returns the absorbed energy to your stride. Together with the knitted upper, it allows these shoes to provide unparalleled comfort.
UA HOVR Infinite – a digital training coach
The HOVR outsole contains a unique sensor to monitor and analyse your pace, distance, and length of step. Through Bluetooth, it wirelessly connects with the UA MapMyRun mobile app which serves for monitoring, analysing, and saving detailed information about all your training sessions, helping you improve faster. In 2019, the Gait Coaching feature was added to provide you with detailed information about the length of your step and cadence. The virtual coach then analyses these values and suggests optimal values for each runner based on their height, weight, sex, and pace. A correct step length maximizes your performance while minimizing the risk of injury.
UA HOVR Infinite – gender-specific construction
When developing its new running shoe, Under Armour focused on needs specific to the comfort of women's and men's feet. The results of the research were clear: women have shorter heels and more sensitive insteps and the front parts of their feet have a lower volume. Based on this data, the gender-specific construction of UA HOVR Infinite insole was designed. The insole features top-quality foam with UA HOVR™ open cells and were shaped to firmly keep your foot in place and cooperate with dynamic Energy Web.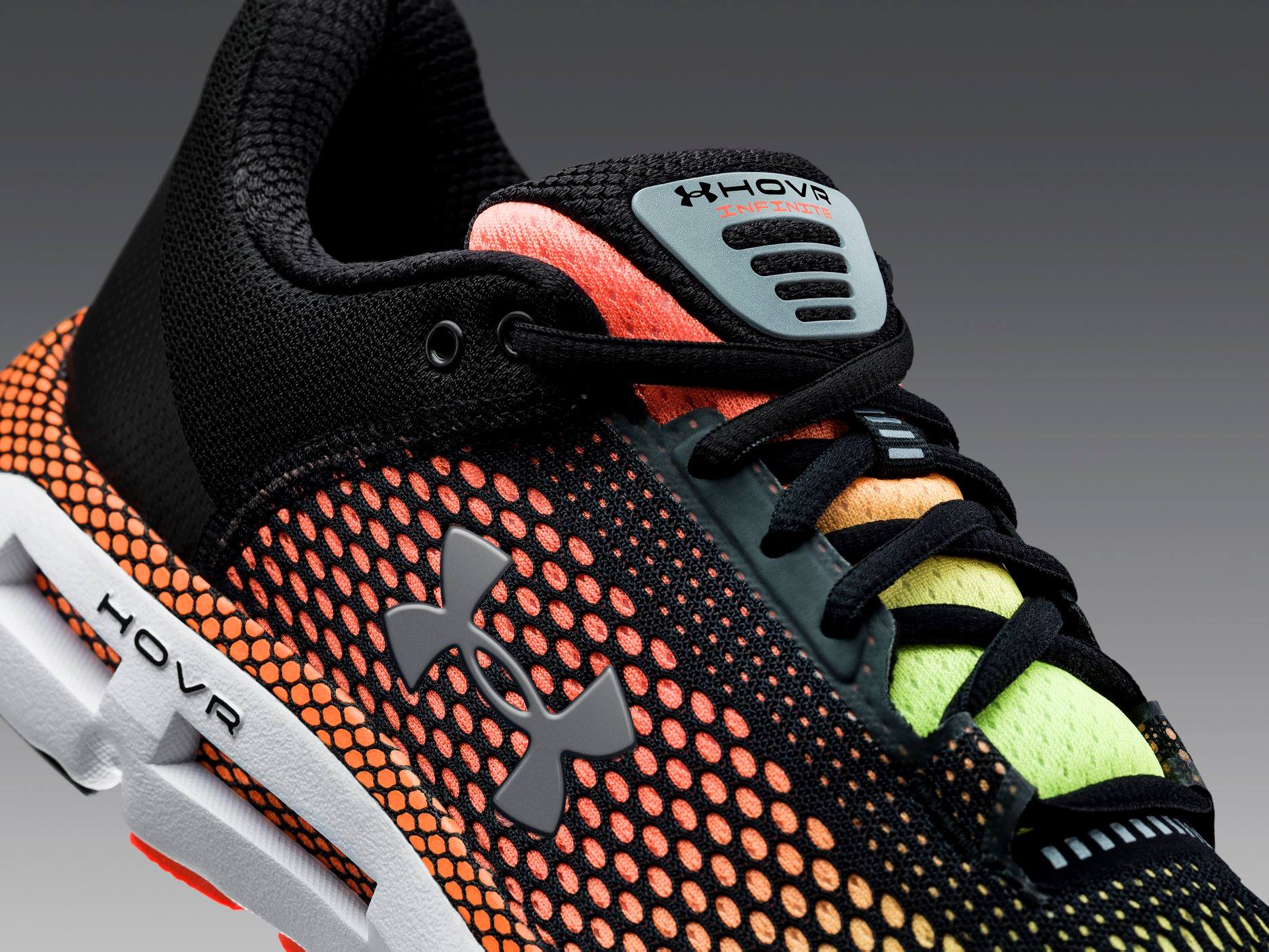 UA HOVR Infinite – characteristics
Zero-gravity feel: The soft HOVR foam along the entire outsole, enclosed in dynamic Energy Web, ensures comfortable landing and flexible take-off.
Anatomic shape: The design of both men's and women's shoes respects different anatomical needs of each group. Its light, breathable upper holds the shape of the shoe and is elastic right where it needs to be.
3D moulded insole: The insole made of polyurethane foam firmly holds your foot and improves comfort. It's made in anatomically different shapes for men and women.
Deep flex grooves: The grooves on the front part of the outsole support the anatomically correct and efficient movement of your feet.
Smooth and stable surface: Its firm foam frame plus deep flex grooves ensure stable and smooth movement for countless miles.
360° reflectivity: Safe training sessions even in low light.
Measuring runner's data: It wirelessly connects to the UA MapMyRun app to monitor and analyse your pace, distance, cadence, and length of step. Based on this data, it comes up with suggestions to improve your training sessions.