Will the two-hour barrier survive the London Marathon? Nike introduces its running shoes featuring FlyPrint 3D technology
At the London Marathon on Sunday, April 22, another attempt at running a marathon under two hours will be made. At this occasion, Nike introduced its Nike Zoom VaporFly 4% model with a 3D printed upper, which is supposed to help elite runner Eliud Kipchoge achieve his goal. And famous runner Mo Farah wears this model as well.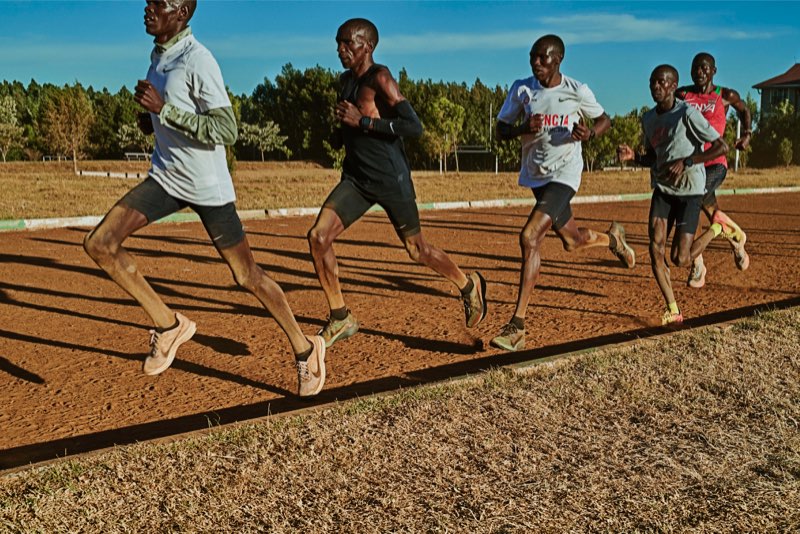 Using grids made of melted thermoplastic polyurethane, the FlyPrint 3D technology has managed to reduce the weight of the shoe by 11 grams and improve its breathability, tight fit as well as energy return. However, the main goal was to prevent the upper from retaining humidity, which – according to Eliud's feedback – was a major problem at his attempt to beat the world record at the wet Berlin Marathon 2017. In addition, this faster construction process (by almost 16 times) enabled the designers to flexibly adapt to changes and test other prototypes.
Nike Vaporfly 4% and Elite were key models in the Breaking2 project, an attempt to break the two-hour marathon barrier in Monza 2017. At this event, Eliud Kipchoge ran the fastest marathon ever as one of three elite runners. The shoes featured ultra-light and soft Nike ZoomX foam for sensitive responsiveness, full-length plate made of carbon fibre, and heel extension to minimize the strain put on Achilles tendon and to achieve faster speed thanks to its aerodynamic shape. The designers of this shoe aimed at making the best possible use of the runner's energy, with energy return up to 85%, and to prevent its loss through the shoe. It was no accident that these shoes now dominate among marathon runners at races all year round.
Eliud Kipchoge continued in the project Breaking2, but he didn't succeed at breaking the record by Dennis Kimett at the Berlin Marathon 2017. However, this race was absolutely crucial for further improvement of the VaporFly model. Based on Eliud's feedback that in wet conditions it was impossible to fully use the potential of the shoes to get the required energy for the performance, the Nike team came up with a 3D technology named FlyPrint. This innovation brought even better breathability and ventilation without retaining humidity, an absolutely adaptable shape, and it took away another 11 grams in comparison with the original Kipchoge's pair of shoes. In addition, its faster construction process (by almost 16 times) enabled the designers to flexibly adapt to changes and test other prototypes.
What is Nike FlyPrint?
The upper was created using the FlyPrint 3D print technology. Individual layers of melted thermoplastic polyurethane were placed on each other in order to create a unique gridded structure which fits perfectly even when the runner puts the shoes on for the very first time. Each layer of the gridded structure has its own function; they ensure stability, support and breathability, let the wind flow, and reduce weight. The final design was optimized based on feedback by athletes, mainly Eliud, as the Nike team knows his legs and feet perfectly. This technology almost completely removes the resistance among individual fibres, unlike with the classic woven structure where its individual elements keep interacting.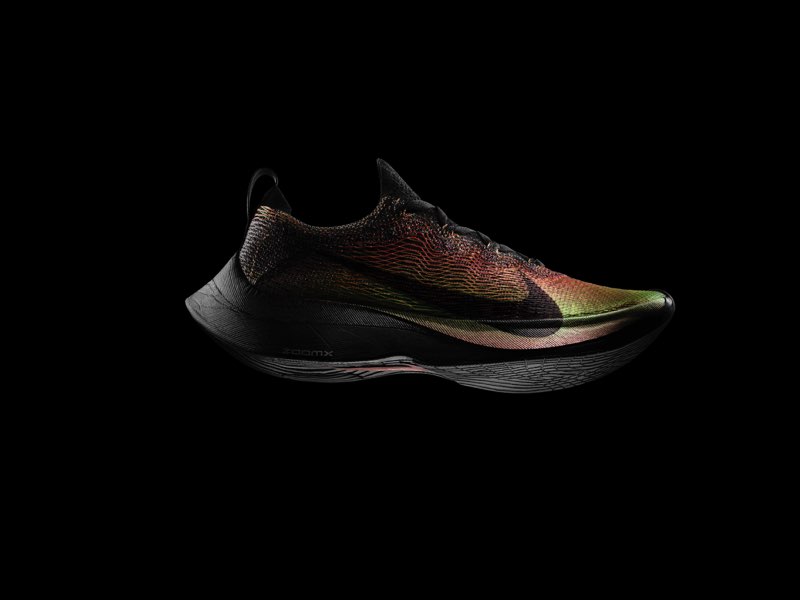 Design
Another task for the designers was to create a brand new look for this model. They went through a huge number of colours to eventually choose the effect which reminds of Eliud's natural training environment in Kenya, which is red clay on green background. These colours merge to show how nature combines with technological progress.