Nike Fast Lab Berlin
(R)evolution of speed. Doping in the form of a shoe? From the Nike Fast Lab event taking place in Berlin which we were honoured to visit during the European Athletics Championships, we've brought lots of great memories, including the race against time by Eliud Kipchoge.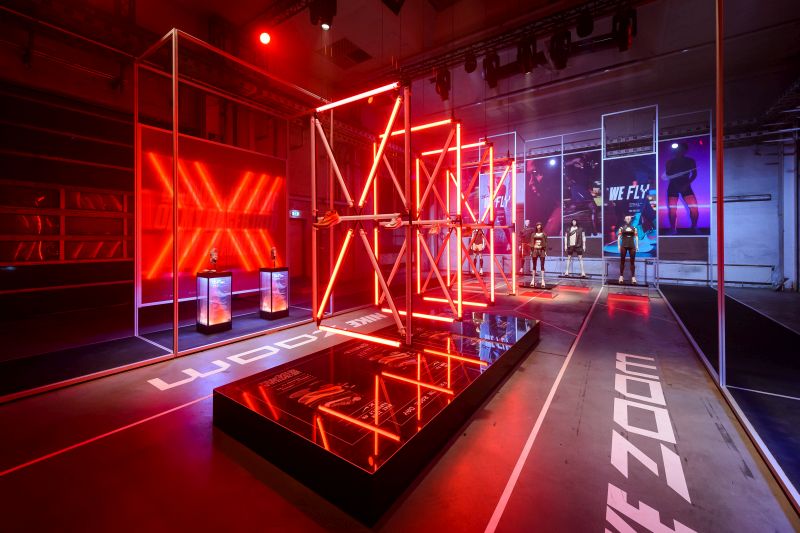 During the European Athletics Championships in Berlin, as a Nike partner we were invited to the Nike Fast Lab, an amazing "laboratory" of innovations and the home of the fastest shoes currently available on the global market. The speed of the evolution of running shoes, as shown by Nike, has been recently just revolutionary. The Nike Vaporfly 4% is very hard to compete with and it's very rare to see any of its rivals on marathon podiums throughout the world.
ZoomX and other weapons
Among the main weapons of the Vaporfly 4% are its carbon plate and ZoomX foam, while the new FlyPrint upper pushes the shoe even further. The shoe verifiably increases the speed of runners and it's even been suggested that it is a form of doping, which is just incredible. Eliud Kipchoge, the 2016 Olympic marathon gold medallist, who last year almost broke the insane two-hour marathon time limit as part of the Breaking2 project, missing it by a mere 25 seconds, is now getting ready for further attempts. And one of them is going to be the Berlin Marathon which we'll be attending together with the winner of our big summer marathon challenge.
Sprinting innovations
Another two members of the Nike Fast Family – Nike Zoom Fly and Pegasus, the most popular road running shoe by Nike, which several weeks ago introduced its new Turbo version featuring the ZoomX foam – have been constantly innovated and improved to get faster by every hundredth of second possible. As a result, an incredibly comfortable and responsive marathon running shoe has been born, which you can easily wear also for your fastest training sessions.
We can only guess where the world of running will move in the coming months and years thanks to Nike (also based on what we were shown behind the scenes in the Nike Fast Lab ☺), but we are definitely looking forward to this show. As they say at Nike: "There is no finish line."
Choose your favourite from the Nike Fast Family: