Watch Garmin GARMIN FORERUNNER 645 MUSIC
Watch Garmin GARMIN FORERUNNER 645 MUSIC
Sold out
We are sorry but that product is currently sold out. Take a look at more recent models currently available.
Product number
010-01863-32
Total review
5 out of 5 Stars
---
We'd love to read your opinion
Your review will help us and others to buy this product.
Add review
Ask us whatever you want
We'll reply to your question the next working day at the latest.
Add question
---
No one has asked about this product yet.
Added to cart:

Watch Garmin GARMIN FORERUNNER 645 MUSIC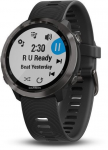 Buy products for additional 0 and get cheaper shipping. Buy products for another €150 and get free shipping